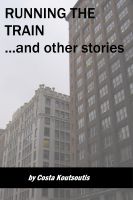 The first Winston & Churchill story, NEVER LET GO, is featured this month on Costa Koutsoutis' monthly fiction site, "The Monthlies." It's just the first half or so of the story but I'm very glad that he enjoyed it enough to put it up there. Costa's a writer himself and you should check out his series of stories about private investigator Ben Miles in RUNNING THE TRAIN.
Meet P.I. and part-time bondsman Ben Miles. He's not the best investigator, or the toughest, or even the most competent. But somehow he manages to get the job done, even when he's in way over his head.

And he gets in over his head quite a bit. Luckily he's got far-more competent friends, which in this business, are something that you need in spades. Ben's gonna need them, dealing with rogue bondsmen, the sex trade, the Midwestern Mafia, and more in this introduction to the character.

"Running The Train…and Other Stories" is an all-new collection of the Ben Miles Stories "Mob," "Old Dogs," "Fireflies," "Cul de Sac," and "Running The Train."
Costa is a great guy that I met over at the now defunct Standard Attrition message board hosted by Jason Aaron (I think) that had a host of other comic pros hanging out there (Brian Wood, David Lapham, Ivan Brandon and a few others) in a relatively informal setting. Like a lot of on-line communities it ran its course after a bit and folks sort of drifted away, but through the magic of social media those connections never really die out.
Costa & I talked a bit recently about becoming writing buddies, which would be kind of nice. Writing can end up being so solitary and I know that I tend to react badly to that at times ("Why am I doing this? No one cares. None of it is any good"). Basing your self worth just on site hits and story sales can be pretty damaging to your ego after a while.
In any case, thanks to Costa for the new eyes on things that I write. You folks help me return the favor…