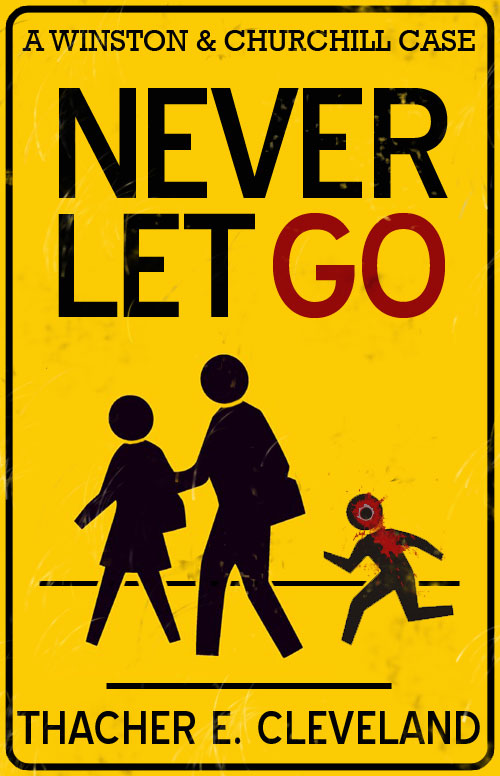 I've been coyly talking about things "being in the works" for a while now and now I can put my figurative money where my literal mouth (or in this case, fingertips). This weekend I debuted a new venture for me in the form of publishing, NEVER LET GO, the first in a monthly series of short stories on Smashwords. The series features the adventures of Lexie Winston and Henry Churchill, a mismatched pair of private investigators in Manhattan who specialize in the unusual, the unearthly and the supernatural. This year they'll face demons, vampires, witchcraft, exorcists, items of supernatural power and more every single month in stories in "real time;" as a month goes by for us one goes by for them.
The idea of doing a story a month would be a little daunting if I didn't already have a little bit of a backlog of stories and material that I want to write. Even still, with my day job and other aspects of my life kicking my butt right now it feels like a lot to take on. I went back and forth on this, hoping that things would maybe ease up in one way or another, but I realized that I've done enough waiting in my life and if I want to make a living at writing the really isn't any better time than the present. I've had these characters in my head for years (as writers tend to do with the people they make up) and I'm finally read to bust out the shrink wrap and start playing with them. I'd been wanting to build them up with short stories at first and then do a novel (or two or four) but the short story market is…well, kind of nonexistent. As I watched technology grow and change the way we read and buy things, I kept seeing more and more about how people's new reading habits have moved to a point where serialized fiction is becoming more viable. After mulling it over I figured I'd give this approach a try: a story a month that builds to bigger stories, higher stakes and the occasional "season finale."
It's an experiment. We'll see how it goes. Maybe it'll last a year. Maybe I'll get to do it longer.
I thought for a while about the price and what to charge for them, if anything, and I settled on 99 cents as a good comfy place to live. That price is part of the reason why I'm publishing these exclusively on Smashwords right now since they give me a better cut of that than Amazon does at 99 cents (Smashwords pays you $0.56 on $0.99 versus Amazon's $0.35). Now, are they going to stay at that price and only at Smashwords? Probably not. We'll see. Part of the reason I chose the month-long "real-time" approach is that I can divide up the books roughly by season and sell smaller collections once several stories are out there. So yes, they will be collected, there may be a discount on that collection but there also may be some extra stuff in there as well.
One of the other reasons I went the paid-not-free route (aside from wanting to pay my bills) is that I knew I was going to need some help with the graphic design and book covers. In trying to get comic work produced and out there I'm already dipping into my own pocket quite a bit (writers are the only one who'll work to get paid on the back end, apparently), so I figured this may be a good way to off-set that as well. I'm very fortunate to have a talented friend like Jason Knize who did the cover design for NEVER LET GO and when asked about his fee sent me an invoice that included "a free pass the next time I make you mad" (which isn't *that* often) and making him breakfast the next time he's in town (I make a mean stack of pancakes), as well as some other things we won't get into.
In any case, here we find ourselves at the beginning of something that will be the beginning of a fun and exciting new venture or a startling failure of "if you build it they will come."
Fingers crossed.